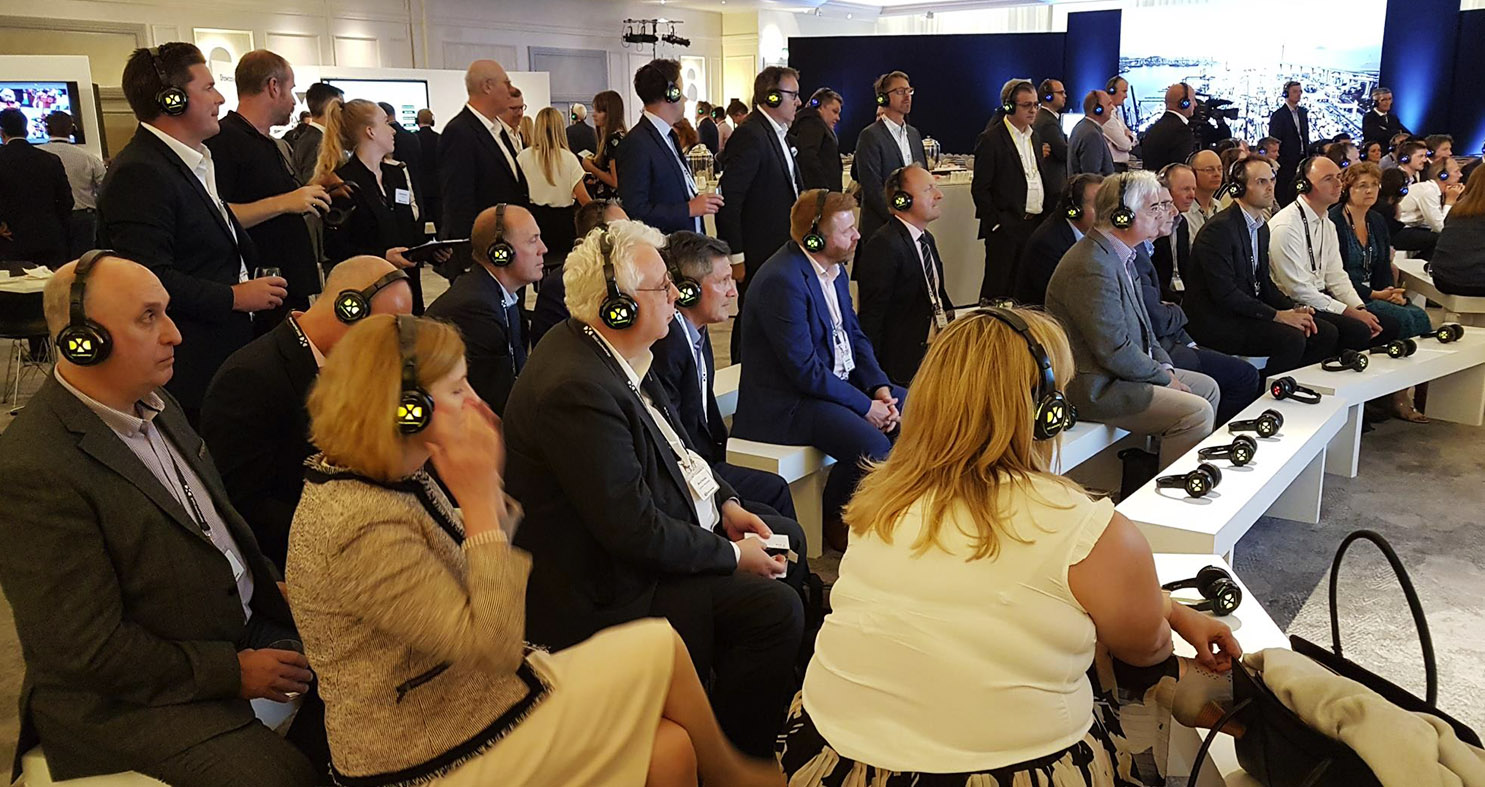 Choice!
Host more than one speaker at a time
The wireless Silent Seminar headphones work on multiple channels which means you can host more than one speaker in the same seminar space and delegates can then choose who they wish to tune in to.
Increase engagement
Our Silent Seminar headphones help remove any distractions and surrounding noise, keeping the attention of your delegates for longer - especially in areas liable to sound spill.
Lasting all day
The Harry headphones last for up to 10 hours on a full charge so you are good to go all day without needing to worry about recharging leaving you to concentrate on your seminar.
Perfect audio
Our Harry headphones and Donkey transmitter are a great set-up and can receive audio from up to 150 meters away with no lag or delay, delivering premium sound to all delegates. 
More features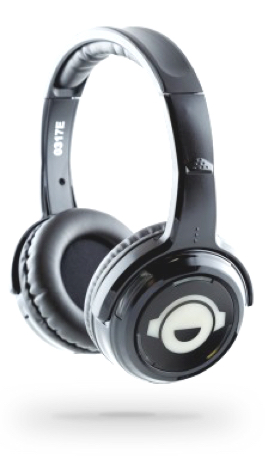 Power saving mode
Harry headphones will automatically switch off after 10 minutes of not receiving any broadcasted audio which saves their batteries and makes it quick to pack away at the end of your event.
LED lights
Harry has a center LED light showing which channel the headphones are listening to and flashing LED lights on the edge that beat to the music.
Auxiliary socket
When not at a Silent Disco, you can use a 3.5mm Jack Cable to connect Harry to your phone and use him as a standard pair of headphones. You can also connect a set of headphones to a speaker so staff working at an event can hear the music being played.
Legal and license free
The UK, Europe and ROW Harry is legal to use with compatible transmitters throughout Europe and much of the world using the EU approved 863-865MHz. The USA and Canada Harrys work on the US approved 914-917MHz frequencies.
Phase-lock loop technology
Phase-lock loop technology prevents signal loss over longer distances or in unusual environments.
Manuals and documentation
Learn more about the technical specification of the Silent Disco Headphones. View or download the product information sheets.
Select a document to download
More features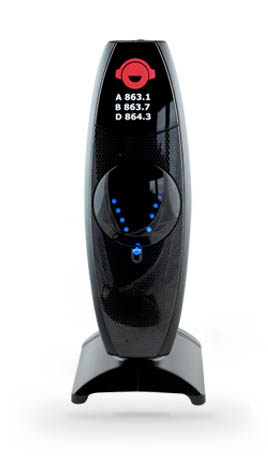 Connect to multiple devices
Connect to a multitude of audio devices; mobile phones, tablets, DJ equipment and more using the 3.5mm jack output.
Up to 150 meters
Transmit audio to a range of up to 150 meters in optimum areas.
LED visual equalisers
Displays when your audio is transmitting without having to listen to the audio.
Legal and license free
Using the EU approved 863-865MHz, the Donkey is legal to use throughout Europe and much of the world. (USA requires different frequencies, also in stock. Please contact us)
Consistent audio levels
A built-in Multiband Audio Processor automatically tames the levels of the music and avoids any distortion or loud bursts from the audio.
Select a document to download
More features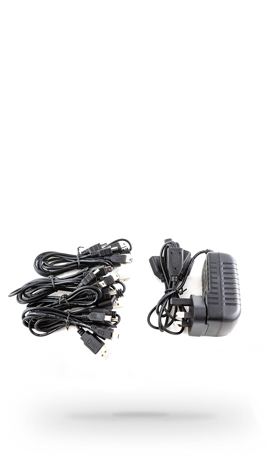 16 Mini USB Splitter
Splits a USB into 16 mini USB heads for charging.
Only 1 Power Socket
1 power socket will charge 16 headphones at 1 time reducing the amount of extension leads needed.
Universal Power Plug
Connected to a universal IEC cable, your charger will be supplied with the right plug for your location.
More features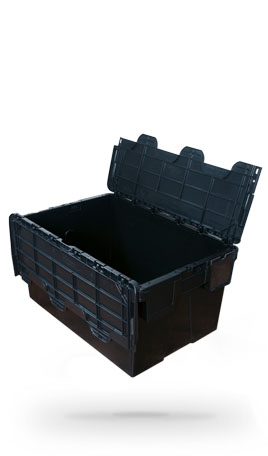 Spacious storage
The Doug dimensions are 40x60x30cm.
Doug storage capacity
| Harry | Bob | Joe | Bobbie |
| --- | --- | --- | --- |
| 40 | 50 | 50 | 40 |
Heavy duty build
Robust and reliable design made from polypropylene for reinforced build.
Fixed holes
Gives you the ability to add cable ties to the box for extra security in transit and at events.
Built in handles
There are 2 handles on the box each side to make transportation much easier.
Locking lids
Lids lock together for a secure fit.
Nesting lid and base
Makes it easy to sturdily stack the boxes without risk of falling.
Weight (kgs)

0.2100

Battery Life

Up to 12h

Power

Rechargeable

Construction

Number of Channels

3 Channel

Type

Receiver

Battery Life (Lights On)

9.5 hours

Battery Life Lights Off

11.5 hours

Buttons

On / Off, Search / Scan , Lights, Volume

Channel Separation

>40dB

Charge Time

4.5 hours

Connections

Aux (3.5 mm Jack)

EAN

0644730942607

Available Frequencies

UK, Europe and ROW, USA and Canada, Australia

Frequency Response

30 ~ 15,000Hz

Lights

No LED , Static LED, Flashing LED

Impedance

32 ohm

Modulation

FM

Number of Channels

1-3

Operational Distance

> 300m

Power Saving

after 10 minutes of no signal

Power Source

600mAh 3.7v Lithium Ion Battery

Sound

Stereo, HD, SD

Speaker Type

Advanced 40mm

S/N Ratio

> 75 dB

Compatible With Products

Joe, Bob, Falcon X, Falcon, Donkey, Parakeet, Parrot
Weight (kgs)

0.3600

Colours

Black

Battery Life

N/A

Power

Mains

Construction

Number of Channels

3 Channel

Type

Transmitter

Battery Life Lights Off

N/A

Buttons

Channel Select

Channel Separation

>40dB

Connections

Aux (3.5 mm Jack)

Available Frequencies

UK, Europe and ROW, USA and Canada, Australia

Frequency Response

30 ~ 12,000Hz

Lights

No LED

Impedance

32 ohm

Modulation

FM

Number of Channels

1-3

Operational Distance

< 150m

Power Saving

N/A

Power Source

12v DC Power Adaptor

Sound

Stereo

S/N Ratio

> 70 dB
Weight (kgs)

0.6000

Colours

Black

EAN

0644730942607

Impedance

32 ohm

Power Source

12v DC Power Adaptor

Type

Accessory
Weight (kgs)

3.5000

Colours

Black

Internal Height

330mm

Material

Polypropylene

Nested Height

85mm

Type

Accessory

Compatible With Products

Harry, Joe, Bob, Bobbie, Falcon X, Falcon, Donkey, Parakeet, Parrot