Description
The Dual Microphone System includes 2 wireless neckband microphones that can both be used at the same time so whether you have two presenters at a conference or 2 sports instructors you can both be connected and speak hands-free.
Two voices
Give your wing man a voice!
This set of two wireless neckband microphones allows two to talk and present at the same time so bring your backup crew along!
50meter range
The QTX dual microphones can transmit up to 50 meters so you can roam freely whilst delivering your presentation.
Room for two
The QTX dual microphone system comes with two sets of wireless headsets and transmitters so two can present simultaneously
Hands free neckband mics
Move freely around the stage as the neckband mics are hands free, non-restrictive and very comfortable to wear.
More features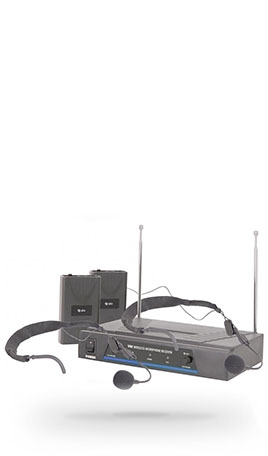 2x Wireless Neckband Mics
The QTX VN2 has a single LED light that clearly displays the channel you're listening to whilst still remaining discreet.
2x Beltpack Transmitters
Beltpack transmitters clip snug onto the waist and ensure hands free activity.
Output Connections
Both XLR and Jack output connections from the receiver.
Operating Frequencies
Operates on VHF frequencies 173.8 and 174.8
Manuals and documentation
Learn more about the technical specification of the QTX Wireless Dual Microphone System. View or download the product information sheets.
Select a document to download
Specifications
Length

1.7000

Weight (kgs)

1.0000

Colours

Black

Connections

Aux (3.5 mm Jack)

Operational Distance

< 50m

Output Connections

1/4mm Jack, XLR

Receiver Power

10v 250mA Power Adaptor

Receiver Weight

573g

S/N Ratio

> 85 dB

Transmitter Power

9v Battery

Transmitter Weight

76g (No Battery)

Type

Accessory

Compatible With Products

Falcon X, Falcon, Donkey, Parakeet, Parrot
Need help choosing the right product? Call us on 0207 0603 653
Contact us