1 year ago
Art, History and Sport - We've Been Busy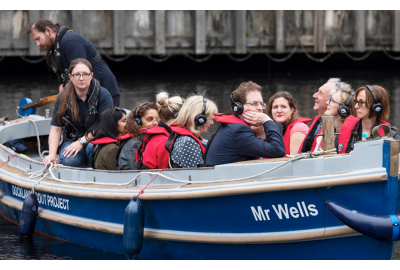 Over the last couple of weeks our headphones have been used in some really interesting and different ways.
Bastille launched their new album 'Doom Days' with an immersive stage play utilising our headphones. The audience were given the option of which character to follow and they then only heard that characters storyline. The band appeared on stage towards the end to play selected songs from the album.
Read what NME said about the show
The Museum Of London Docklands 'Liquid Late' night took visitors on a short boat trip around West India Quay to celebrate the opening of the Secret Rivers exhibition. As part of an event called 'The Tale of the River Told', our headphones provided oral histories of the river and the docks from history, as well as spoken word performances and soundscapes from the rivers of London.
Cannes Lions, the Marketing and Advertising Festival took place last week and Soul Cycle used our headphones for early morning spinning classes. Hundreds of people took advantage of the fabulous outdoor location wearing our customised headphones and the French weather added to each session.